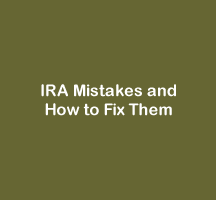 IRA Mistakes and How to Fix Them
This report give you detailed instructions with citations regarding how to identify and fix most IRA mistakes.
Description
Formerly IRAs with Hair: What to do with an IRA that has a Shady Past
You get: Explanation of 10+ IRA mistakes, with detailed step-by-step instructions on how to fix them.
Publication date of this edition: March 29, 2018. 92 pages, plus Table of Contents.
Have you ever had a client who…didn't take her RMD? Contributed too much to his IRA? Missed a rollover deadline? Put money in the wrong account? It's amazing how many ways an IRA can slide off the rails. With this Special Report, you can identify the mistake, and (usually) fix the problem and avoid the punishment.
The Problems: Sooner or later you will have a client who bungled a rollover, minimum distribution, contribution, or other IRA.
The Punishments: Know whether your client faces a 6%, 10%, or 50% penalty, a deemed distribution, or complete disqualification of his IRA.
The Remedies: Learn when and how to use a corrective distribution, request for penalty waiver, absorption, recharacterization, hardship waiver of the 60-day rollover deadline (including the added-in-2016 IRS "self-certification" procedure), or a rollover to solve your client's problem.
Note: This Report does not cover the "premature distributions penalty" (10% penalty for distributions before age 591/2). See Chapter 9 of the author's book Life and Death Planning for Retirement Benefits instead. Also, this Report does NOT cover "prohibited transactions." For that topic see instead the author's Special Report "Buyer Beware! Self-Directed IRAs and Prohibited Transactions."
Preview "IRA Mistakes and How to Fix Them"
Click here to see the detailed Table of Contents of IRA Mistakes and How to Fix Them. (pdf)