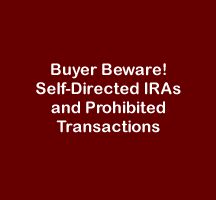 Buyer Beware! Self-Directed IRAs and Prohibited Transactions
Natalie Choate's Special Report Buyer Beware! Self-directed IRAs and Prohibited Transactions is the only published in-depth study of the subject of the prohibited transaction rules as they apply to IRAs.
Description
Pub. Date: 3/24/14
Note: This outline is written for intermediate and advanced level planners.
A "prohibited transaction" (PT) occurs when an IRA engages in a nonexempt transaction with a "disqualified person," or in a transaction that benefits a "disqualified person." If the disqualified person is the IRA owner or beneficiary, the result is disqualification of the IRA—the "IRA death penalty."
There is no "IRS waiver" procedure for a PT, no grace period for correcting it, no mulligan, no sorry I didn't mean it: Your IRA is just gone.
As more clients move their IRAs into unconventional investments, the incidence of PT-caused disqualification increases. Advisors need to know:
What IRA transactions are and are not "prohibited"
Who are the "disqualified persons" with respect to their clients' IRAs
How to avoid getting trapped by the misleading advice and wishful thinking, often published by promoters of "self directed" investing products, that circulates on the internet.
Natalie Choate's Special Report "Buyer Beware! Self-directed IRAs and Prohibited Transactions" is the only published in-depth study of the subject of the prohibited transaction rules as they apply to IRAs. It will:
Tell you what the law is and where to find it.
Explain the roles of the IRS and Department of Labor (DOL).
Analyze numerous "planning ideas" from the PT perspective.
Summarize and explain the significance of all the major cases in the IRA/PT field, such as Swanson, Peek/Fleck, and Ellis, as well as significant IRS and DOL pronouncements.
Point out the flaws in many promoters' schemes arising through misinterpreting cases and other precedents
Arm you with the knowledge you need to help your clients steer clear of the "IRA death penalty"
Preview "Buyer Beware! Self-directed IRAs and Prohibited Transactions"
Download Table of Contents and first five pages of text free. (pdf)